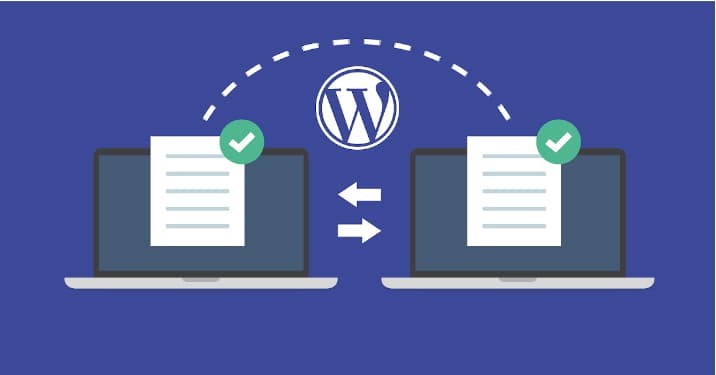 Thought of migrating your wordpress blog may seem like a nightmare to many. But that doesn't have to be the case anymore.If you use the right kind of plugins, moving your wp blog can be as simple as just pressing a few options. In this blog, we take a look at the top 10 best WordPress migration plugins.
Reasons You May Want to Migrate
Let's discuss why you may want to migrate your website in the first place.
As your blog grows and starts driving more traffic, the need for a better high performance web hosting service can arise. Or, if you're a developer who creates websites for different clients, then once you create their website on your local WordPress, you may want to migrate the website from WordPress to the client's server, once it's created.
Whatever the reason for you to migrate, these WordPress plugins can be of use to you.
10 Best WordPress Migration Plugins
1.    WP Migrate DB
WP Migrate Database is a WordPress plugin that exports your site's database and lets you save it as an SQL file on your computer. The plugin was created for the purpose of making WordPress migration easy and convenient for you.
You only need to follow a 3-step process:
Find and replace the data you want to replace directly in the plugin's interface
Export SQL to your desktop.
Import the new database using a tool.
Features:
Migrate your site between different servers or take it from a local to a live server.
Find and replace functions available on URLs and file paths.
Handling of serialized data.
Export database with ease.
It's a good plugin that allows the developer to have a lot of control on the work that they're doing, perfect for those who like working manually. Although, it will be harder for beginners to do all the migration work manually and it may not be a good fit in that case.
2.    Migrate Guru
Migrate Guru is one of the fastest plugins of migrating your WordPress website; according to them, they're about 80% faster than any other plugin.
By automatically handling serialized data, rewriting URLs, and bypassing import-export scripts, the plugin performs all your functions without putting your site on risk. It can also clone WordPress sites without the help of any additional tools.
Features:
Compatible with all web hosts.
Seamless multisite support
One-click migration.
Real-time tracking and progress alerts.
Zero downtime during migration.
The plugin can website upto 200 GB worth of data without issues and you can track your progress with the help of a real-time progress screen.
The problem is you can't migrate more than 5 sites in a month which can be a complication for those who work with a lot of websites. And you can't migrate multisite network subsites to different domains.
3.    All-In-One WordPress Migration
The All-In-One WP Migration plugin has been designed to export all your databases, media files, plugins, and themes with ease without requiring any manual labor or technical knowledge from you.
Features:
An unlimited number of find and replace operation options for your database during export.
The plugin automatically fixes any serialisation problem during find and replace.
Mobile friendly interface.
The plugin has zero dependencies making it compatible with all PHP hosts. The problem occurs when your file is larger than 512 MB or you need to save a backup, because then you have to opt for the premium version of the plugin.
Get All-In-One WordPress Migration
4.    Duplicator
Duplicator is a WordPress plugin that lets you migrate, move, copy or clone websites between domains or hosts with zero downtime.
Features:
Transfer sisters from one host to another.
Bundle up an entire WP site for reuse or distribution
Perform a full WordPress migration without struggling with import/export SQL scripts.
Duplicate a live site to the staging area and vice versa.
Multisite migrations.
Duplicator can easily combine all your site data in a single bundle so you can create pre-configured sites without manual labor. It can also automatically set up everything on your server once you migrate your site.
Although, at some point you may have to deal with an FTP that means you'd need a lot of technical knowledge. Large sites may not properly upload due to chunking data.
5.    UpDraftPlus
UpDraftPlus simplifies backups and restorations of your website. The plugin allows you to backup directly into DropBox, Google Drive, Amazon S3, Dream Objects, FTP, etc. The premium version also allows Microsoft OneDrive backup with ease.
Features:
Multisite compatibility
Split large files in multiple archives
Multiple off-site storage locations
Incremental and automatic backups
All tasks are easy to perform even for those with limited experience, and you can use the plugin for non-WordPress files and databases as well. The con is that the plugin doesn't provide malware detection and the premium feature is expensive.
6.    BackUpBuddy
Primarily used as a backup and restore tool, BackUpBuddy can be used as a reliable migration plugin as well.
Features:
Download backup zip files with ease.
Built-in security scan features.
Easy restore using the ImportBuddy tool.
Automatic change of URLs when you change domains.
There are certain features available as you need, but remember that multisite WordPress support is not available. The BackupBuddy multisite is experimental and not recommended as per the official statement by the BackUpBuddy support team. You don't get a free trial to test whether this is the right solution for you.
7.    VaultPress
VaultPress is an easy to use plugin by Jetpack that allows website owners to backup, restore, and clone their websites to other locations.
Features:
1-click restores and easy migrations.
Uptime monitoring and spam protection.
Automated daily backups and unlimited storage space.
Advanced security scans so your site is protected on multiple levels.
While using this plugin, you receive priority on support from WordPress experts to help you out with problems. The problem is its part of a Jetpack subscription instead of being free, and the main focus of the plugin is security and backups, not migration.
8.    WPVivid Backup Plugin
WPVivid is primarily designed to be used as a backup and migration plugin, with new features being added with each new update to make it more advanced. You can migrate a copy of your WordPress site to a new domain, schedule backups and store them, etc.
Features
Restore or migrate your site from backups.
Move your site from one host or domain to another.
Provides support for DropBox, Google Drive, Microsoft OneDrive, Amazon A3, FTP.
Works with page builder plugins like Elementor, Beaver Builder, etc.
You can easily perform one-click migrations and most of the features are part of the free plan. The only issue is that you don't get multisite WordPress migrations and incremental backups aren't available in the free plan.
9.    WPBackItUp
This is one of the more user-friendly WordPress plugins that can be used by a website owner to move their website from one location to another.
Features:
Unlimited backups.
Easy migrations
Create routined backups and schedules.
One-click site backup and restore.
Email notifications to keep you up-to-date.
The plugin has a 30-day free trial to let you check if it's appropriate for you and it's an easy to use solution for those who are looking for basic, beginner-level solutions. If you lose your license, you'll lose most of the advanced settings as well, so make sure you keep a check on that to avoid inconveniences.
10. Super Backup and Clone
This plugin comes with a convenient backup feature with an import feature so you can import any of your backups with ease and convenience to a new installation on WordPress.
Features:
Restore or migrate sites with snapshots or file upload.
Exclude certain files, folders, or databases.
Detailed history reports.
Schedule routined backups.
Setup multiple storage locations to ensure data safety.
You can migrate your entire site or exclude certain portions and migrate the rest, a feature not found in most plugins. There are 40 different features helping you out with different functions, so this plugin can get overwhelming for those looking for a more basic and simpler solution.
Summary
These are top 10 WordPress plugins you need to keep in mind when looking for a migration plugin for your website. While looking into these plugins, make sure you're researching into the reviews and ratings given to these plugins as well as how regularly they introduce updates so that you invest in plugins that are worth your time and hardwork and don't end up creating complications for you.
 Author Bio:

Kamil Riaz Kara is a content contributor at Mainstream and associated with digital marketing for the last six years. Presently working at Digital Eggheads, a digital marketing agency in Pakistan.