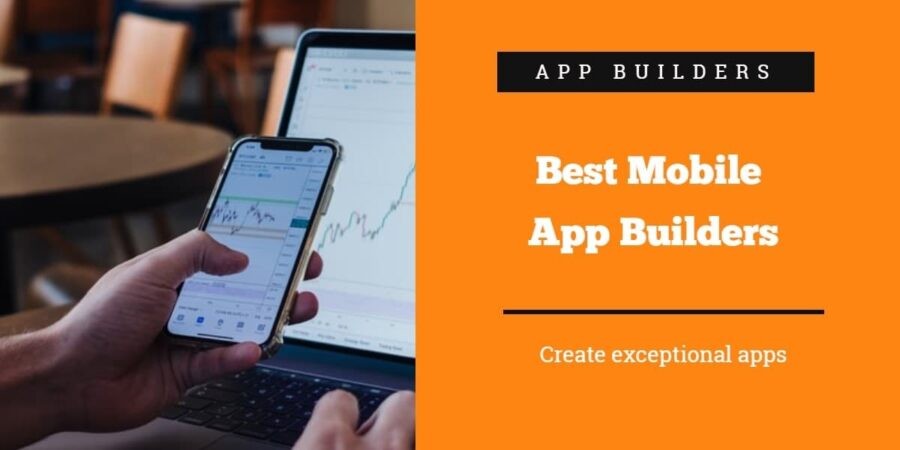 11+ Best Mobile App Builders – Build Your Own Mobile App (2020)

Tweet This


If you want to flourish online, you need to consider building a mobile app for your product or service. This is because most people who use the internet are either on their smartphone or on their tablet.
Mobile Apps Quick Stats
If you take a look at following graph, it's obvious that  mobile Apps users have gone up, which only underlines the importance of a mobile app.
How to create a mobile App without any technical skills
Building a mobile app is not that easy. You'll have to learn how to code, understand how to design a user-friendly UI and know how to debug or solve a problem if it arises. This could take years and years of experience and practice.
So by the time you have developed an app, your competitors are already enjoying the ROI they get from their mobile apps while your site is going down the radar. And don't get me started on hiring programmers, as it is a very costly purchase.
Here's a shortcut, why don't we make our own apps?
Thanks to these mobile platforms, you can build a mobile app on your own and on a budget. With a small investment, you can create a mobile site or application using these platforms:
Here are 11+ innovative App Makers to create your own App with no coding skills required.
ShoutEm
Como
AppInstitute AppMaker
AppMakr
AppMachine
GameSalad
MobinCube
BiznessApps
Mobile Roadie
GoodBarber
Appery.io
ShoutEm
ShoutEm has been in the market since 2011, so expect that it is a stable product with well-polished options. What is great about ShoutEm is the location-based feature, useful for restaurants, resorts, etc.
ShoutEm is complete with powerful user engagement tools, content management system, and monetization options. The app builder has plenty of customization options. It is tightly integrated with FourSquare, Facebook and Twitter, and other social networks.
The app can be published in both Google Play and iTunes under your developer account and update the content in real time.
You can try designing your app for free, but to publish it, you'll need to app in for a subscription service for $19.90 per month.
Como
Founded in 2010, Como is dubbed as "the Swiss Army Knife of app creators". This app maker powers around 1 million apps around the world, making it one of the best tools to make apps for your blog or business.
Como offers a wide selection of building blocks ready at your disposal. You can build your own loyalty card, schedule integrations, set up an eCommerce store, etc. Customization is nearly sky's the limit and it's up to you on how you want your app to be. The good news is you won't be touching any code. The app maker makes it easy to make your own app with just a few clicks. Even more, Como will find your online content and adds it to your app automatically.
Como is free to try and comes with all the basic features you need for a mobile app. If you need more, opt-in for their subscription plan for as low as $48 per month.
. Try Como. It is free to try.
AppInstitute AppMaker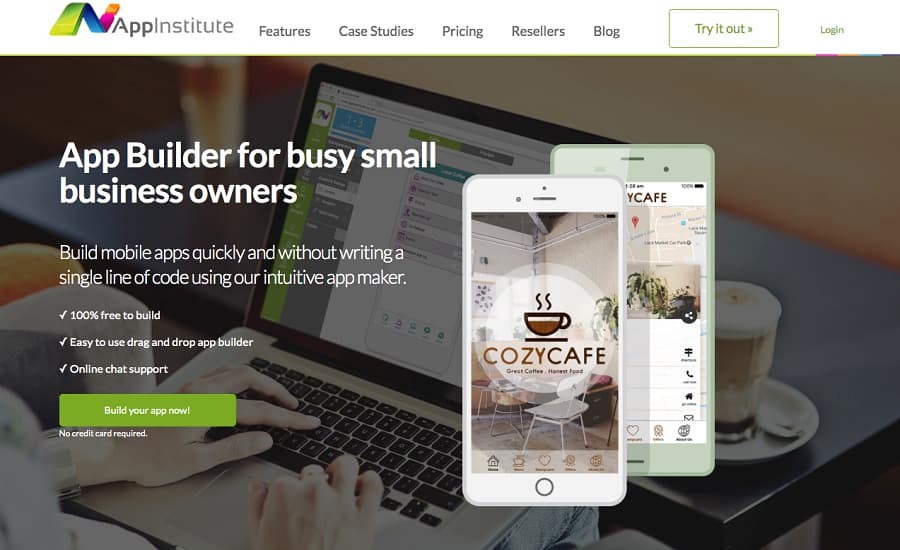 For startups and small businesses, trying to capitalize on the popularity of mobile marketing can be a massive challenge.
AppInstitute is an App Maker that provides a simple way for small businesses to create, publish and manage their own iPhone and Android app using a DIY app builder platform, making entering the app market easy for even the least tech-savvy small business owner.
With the easy to use interface, you simply pick a template and mix and match app creator features to make your own app quickly, without writing a single line of code using the intuitive, powerful, app maker.
You can create your app 100% free to get started, and then pick a plan that suits you to publish your app on both iOS & Android app stores.
AppMakr
AppMakr lets you create your own iOS, Android or HTML5 apps even if you don't have any coding background. The ease-of-use of this platform lets you make any kind of app with just a few clicks. AppMakr supports a wide variety of platforms and is not just limited of Android and iOS. What's more, all you need to, is just one app to deploy that to all platforms.
You can build an AppMakr app for free and edit it as many times as you want. You'll only be paying for their service if you wish to promote the app or publish it on app stores.
AppMachine
AppMachine turns the complicated task of building apps for your website into one easy-to-use interface. Simply give your URL and AppMachine will do the rest. AppMachine will import everything you need for a mobile app like your social media, RSS feeds, and images.
Building an app using AppMachine is free and you are also able to access a variety of useful features for free. Only when you are ready to publish your app will you be asked to pay a subscription fee for as low as $19 per month.
GameSalad
A well-crafted game can promote your blog or website on autopilot. Thankfully, you can do that today, even without any programming knowledge. GameSalad is so simple to use that anyone can share or express their own ideas through developing games. GameSalad is a drag and drop interface that features a scene and an actor editor – this is where you'll spend most of the development.
GameSalad has an active forum community that gives you access to help from independent game designers, developers, and newbies too.
You can create a GameSalad app for free, but if you intend to publish it on iOS, or Android, a $299 annual fee won't hurt.
MobinCube
MobinCube is built under a concept that anyone can make their own apps and make some money using the Admob platform. However, before you can make one, you'll have to spend a few bucks. Don't worry because Mobincube is the most budget-friendly platform to date. The cheapest ad-free plan starts at $9.99. The good news is all these plans allow you to go native and upload your app to one or all of the major app stores. MobinCube supports Android, iOS, Windows Mobile and HTML5 apps.
You can try MobinCube for free and you can create any number of apps for your business.
BiznessApps
BiznessApps is a business-eccentric platform that provides business users with an easy-to-use platform for developing apps. It is the easiest way for small and medium-sized business to create a mobile application without any coding knowledge.
Creating an app is simple and you can do it right away as soon as you login to the site. All you need to do is choose a template that fits your business and configure it. You can import Facebook to the app, but it's not automatic and has to be done manually. There are also other features like GPS, mobile cart, attendance, CRM, mobile cart, etc.
Mobile Roadie
Aimed mostly for restaurants, marketing agencies, celebrities, hospitality and worship, Mobile Roadie is a DIY app builder with straightforward features and robust, stable platform. In fact, it is currently being used by big names in the Entertainment industry like Katy Perry and Madonna and sport teams such as Miami Dolphins and Dallas Marverics.
The interface is simple and very easy to navigate and use. The app builder contains a variety of multi-media and social media integration, including promotion, rewards and marketing tools.
You can try the platform for free but with limited feature set. To get the most out of the platform, Mobile Roadie is available for a monthly fee of as low as $149.
GoodBarber
If it's eyecandy you need, GoodBarber is what you should be using. Like most mobile app creation tool, GoodBarber offers an easy to use interface even if you don't have any coding knowledge; it can publish app in iOS, Android and Windows Phone, and has an intuitive app creation system. However, unlike most of them, GoodBarber has some of the most beautiful templates in the DIY mobile app creator industry. So, if you are looking for a way to boost your app presence and be competitive in this industry, GoodBarber is a place to start.
The platform is not all about beautiful templates as it also has plenty of useful features that makes mobile app creation almost effortless. GoodBarber allows you to import content from known sources like TypePad, DailyMotion, Flickr, RSS, and WordPress. It has support for push notifications and every app you develop has a brilliant analytics system.
GoodBarber starts at $25 with all the basic features, but if you need more opt-in for a full version at $50 per month.
Appery.io
Appery is the only DIY mobile app creator that lets you build your own mobile app right from your browser. While other platforms require that you download their app creator, Appery lets you create one by simply logging in to your account. It is cloud-based which makes it easier to build and launch your applications.
Appery is very simple to use with its drag and drop functionality but they also offer on-site tutorials and step-by-step guides on how to create an app – a very useful feature especially to those who aren't attuned with computers.
What is different from Appery is that it appeals not just to novice users, but also for experienced programmers. This is because you can also edit the source code of the app, do custom coding, add and delete database, making it even more personal and fit for your business.
You can start making apps for free, but it's limited to 1 user and only 3 pages. To publish the app, you'll need a subscription plan for as low as $25 per month.
Conclusion
All of these platforms require little to no programming skills; however if you want to publish the app to app marketplaces like iTunes and Playstore, you'll need more than that.
Note that a good app is user-friendly, intuitive, and people enjoy using it. Know how you can create value for the app and not just create one because you want one. You need to offer special functions to your content as if it is just meant to view your site, don't they have a web browser to do that?